After WWI began, Pope Benedict XV tried desperately to broker peace between the warring nations. When this proved futile, the Pope turned to the children. Pope Benedict knew GOD cannot resist the simple prayers of pure and innocent children. Their prayers, because of their purity, are more powerful. The Pope asked the children of the world, particularly in the war-torn nations to unite in prayer around the Eucharist. He also invited children to come to Rome on 30th July 1916 to beseech Heaven for an end to the war. In May 1917, Pope Benedict made a second public appeal to Heaven for peace. The Pope added a new title to Our Lady's Litany of Loretto – 'Most Holy Virgin 'Queen of Peace' and he asked Catholics all over the world to begin a Novena for Peace on 5th May'
Lucia, Francisco and Jacinta
Lucia asked the beautiful young woman in white where She came from. Our lady answered, 'Heaven'. The Blessed Virgin then asked the children to come back to the Cova da Iria, at the same time on the same day, for the next 5 months, and then She would tell them who She was. Each month Our Lady asked the children to pray the Rosary every day. Regarding the problems in the world, the Lady in white said "Only She can help you."
On July 13th Our Lady gave the children a secret divided into three parts. She opened Her hands towards the earth, and showed the children the first part of the secret - a vision of hell. The Blessed Virgin said many people went to hell because they had no-one to pray for them. Our Lady told Jacinta when she was in hospital in Lisbon that most people were condemned to hell because of 'sins of the flesh'. Also, GOD wanted to establish devotion to Our Lady's Immaculate Heart.
(Our Lady told the children that wars are caused by the collective sins of humanity.)
In the second part of the secret Our Lady told the children the war would end soon but if men did not cease offending GOD, there would be an even worse war. To prevent this, Our Lady would come sometime in the future to ask for the Consecration of Russia to Her Immaculate Heart and the Communion of Reparation on the 1st Saturdays. If Her desires were fulfilled, Russia would be converted and there would be peace. However, if people continued to offend Our Lord, Russia would spread its errors (Communism) throughout the world, causing wars and persecutions of the Church; the good would be martyred, and the Holy Father would have much to suffer; and various nations would be annihilated. 'In the end My Immaculate Heart will Triumph. The Holy Father will consecrate Russia to me and she will be converted and the world will enjoy a period of peace. In Portugal, the Dogma of the Faith will always be preserved.' The children were told that when a strange light appeared in the sky, they would know it was the beginning of WWII.
St. Anthony's Church, Fatima
The third part of the secret was to be revealed no later than 1960. Why? Because Our Lady specifically requested it, and said "it would be clearer then". Unfortunately, 1960 came and went. An anonymous Vatican official declared, 'that the words of Our Lady may never be revealed".
As news of the apparitions spread, more and more people accompanied the children for their monthly rendezvous. Although no one other than the children saw Our Lady, many witnesses overheard the conversation between Lucia and the Blessed Virgin - 'like bees in a tin can'; many saw the golden globe that transported Our Lady (to and) from Heaven; and in September, the shower of petals that dissolved before it touched the ground. Our Lady promised the children She would perform a Great Miracle on 13th October in order that people would believe the apparitions were true. A few days before the 13th October, a fierce storm settled over Europe and Portugal, forcing people to walk for days in the teaming rain over muddy roads in order to reach Fatima. In spite of this, 70,000 people made the journey, although not all of them were believers. Many sceptics and freemasons came just to mock the children and the Church.
At the appointed time, (midday by the sun) Lucia pointed to the sky and everyone noticed that the clouds had parted. Amazingly, as people stared at the sun it looked like a 'pearl disc with a clean-cut rim' and didn't hurt their eyes. Suddenly the sun began to convulse and spin, sending waves of rainbow coloured rays out in all directions. The vast throng of people were transfixed as their faces, clothes and the landscape changed from red to yellow to purple from one minute to the next. As the crowd enjoyed this spectacle, the sun suddenly appeared to break free from the firmament and zigzag violently towards the earth. In that terrifying moment, many believed the world was ending and that they would be crushed to death by the fiery weight of the sun; others screamed in horror and fell to their knees in prayer; some wept uncontrollably and quite a few confessed their sins out loud. One unbeliever shook from head to toe, and then raising his arms to Heaven, he sank into the mud and cried out to Our Lady.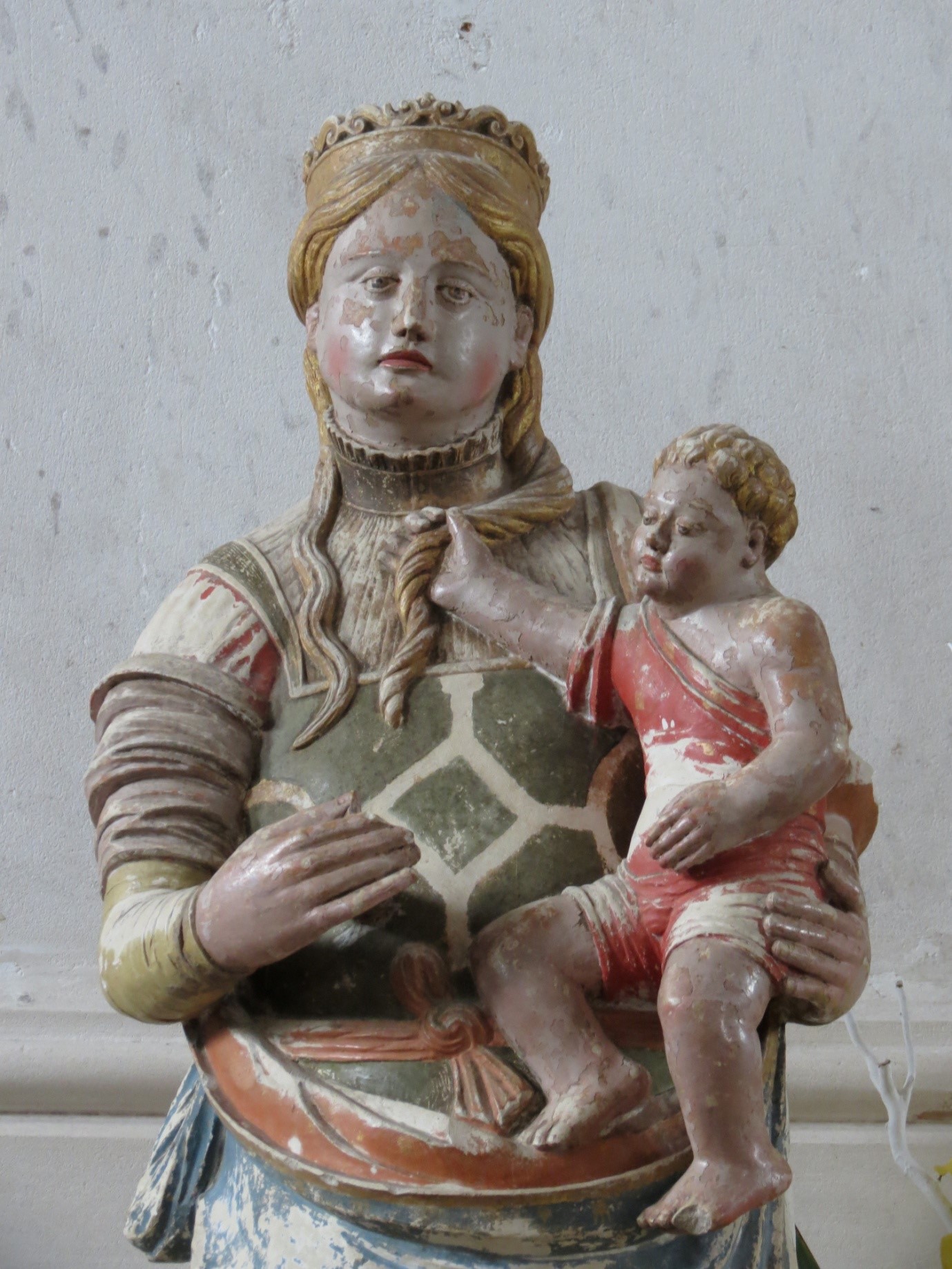 Statue of Our Lady, St. Anthony's Church, Fatima
While this was going on, Our Lady appeared in three tableaus in the sky 1) Mary was on one side of the sun and Joseph and baby Jesus were on the other blessing the people; 2) Our Lady appeared as Our Lady of Dolours with Jesus as an adult. Our Lord blessed the crowd; and 3) Our Lady appeared dressed as Our Lady of Mt. Carmel holding a Scapular in Her hand.
What was the beautiful young woman's name? Our Lady of the Rosary.
Just as suddenly, the sun retreated to its normal position; the ground was no longer water-logged and everyone's clothes were clean and dry. Shouts of joy rang through the Cova da Iria. Although the Miracle of the Sun lasted less than 15 minutes, it is the greatest miracle since Our Lord's Resurrection. Our Lady foretold that a great miracle would occur at a certain time, and on a particular day and month. In fact the Miracle of the Sun would have been even greater if the children had not been kidnapped by Arthur Santos, the apostate Catholic, masonic Mayor of Vila Nova de Ourem, on August 13th.
Half of the third part of the secret was finally released on 26th June 2000. It was the vision the children saw but there was no commentary by Our Lady to explain what it meant.
Angel of Peace
In the vision the children saw at the left of Our Lady and a little above, an Angel with a flaming sword in his left hand; flashing, it gave out flames that looked as though they would set the world on fire; but they died out in contact with the splendour that Our Lady radiated towards him from her right hand: pointing to the earth with his right hand, the Angel cried out in a loud voice, 'Penance, penance, penance'. And we saw in an immense light that is GOD: 'something similar to how people appear in a mirror when they pass in front of it', a Bishop dressed in white. 'we had the impression it was the Holy Father'. Other Bishops, Priests, men and women Religious were going up a steep mountain which had a big Cross of rough hewn trunks as of a cork-tree with the bark: before reaching there, the Holy Father passed through a big city half in ruins and half trembling with halting step, afflicted with pain and sorrow, he prayed for the souls of the corpses he met on his way. Having reached the top of the mountain, on his knees at the foot of the big Cross he was killed by a group of soldiers who fired bullets and arrows at him, and in the same way, there died one after another, other Bishops, Priests, men and women Religious, and various lay people of different ranks and positions. Beneath the two arms of the Cross, there were two Angels each with a crystal aspersorium in his hand, in which they gathered up the blood of the Martyrs and with it sprinkled the souls as they were making their way to GOD. (Tuy 3-1-44)
Pasture behind the village of Aljustrel
What does it all mean? Our Lady has held back Her Son's Arm of Justice many times over the last 150 years. Who is the Bishop/Holy Father in white? Which city is it? How did it come to be in ruins?
On the evening of 25th January, 1938, the whole of the Northern Hemisphere's sky was ablaze with an unknown light. It was not a borealis, as these are multi-coloured and very streaky. This sky was simply blood red. From Scotland to the US, firemen searched in vain for the source of these elusive fires. Some would say Our Lady got Her dates wrong as WWII did not officially start until September, 1939. However at that very moment in Russia, a very high ranking Communist official called Rakovsky was giving Stalin's men information that would eventually trigger WWII.
THE ERRORS OF RUSSIA/COMMUNISM
In 1846, Our Lady appeared in La Salette France to two children Melanie and Maximum. The Blessed Virgin made many prophesies about the future including, 'devils would be loosed from hell in 1864.' What happened in 1864? It was the year that the Communists (i.e. communists, left-wing socialists and anarchists from around the world) held their first meeting (the First International) in London. In July 1946, author William Thomas Walsh interviewed Sr. Lucia and she told him very clearly, "What Our Lady wants is that the Pope and all the bishops in the world shall consecrate Russia to her Immaculate Heart on one special day. If this is done, she will convert Russia and there will be peace. If it is not done, the errors of Russia will spread through every country in the world." Walsh asked, "Does this mean, in your opinion, that every country, without exception, will be overcome by Communism?" "Yes."
To understand a little about the errors of Communism one needs to look at the man who is credited with founding it - Karl Marx. Most believe that Communism was a movement of the common people, but actually, Marx came from a bourgeoisie middle class family and loved the finer things in life. In fact Marx never held down a regular job and lived off the generosity of his good friend Engels. Marx was also a Satanist and his poems are very revealing. He once boasted he would be the man who would drag GOD down from heaven. He wanted to avenge himself on the one who ruled above. In his poem Human Pride, Marx admits that his aim is not to improve the world, reform or revolutionize it, but simply to ruin it and enjoy it being ruined. 'Then I wander godlike through the ruins of the world.....I will feel equal to GOD,' In Pale Maiden he wrote, 'Thus heaven I have forfeited it, I know it full well, my soul once true to GOD, is chosen for hell.'
When people went to Russia to train to be Communists, most of the time was spent studying evolution. Why? Evolution i.e. the total denial of GOD, is the central component of all Communist theory. This way of thinking underpins virtually every aspect of modern society. For example, if we just evolved from a clump of cells then we don't need a Creator, and, we are not made in His image. No GOD, no Heaven. In the same way there would be no Satan and no hell. Added to the denial of GOD Communism advocates: destroy the traditional concept of family (redefine families); feminism – no work, no value (liberate women from children and the home and encourage mothers of pre-schoolers to work); limit the authority of parents (state control of education/propaganda and graphic sex-education at all levels); destroy the middle class (abolition of private property and limit inheritance rights); encourage situational ethics and indifferentism (no right or wrong); encourage sexual freedom (promiscuity and pornography normalised) . If a society does not revere the sacramental and permanent bond of marriage and understand that this special family unit is statistically proven to provide the best outcomes in regards to raising happy and well adjusted children, then family dysfunction will surely follow. If a society does not value life from conception to natural death, and if people believe there are no consequences for sin, then any behaviour is acceptable. Is it any wonder that divorce, cohabitation, abortion, contraception, domestic violence, child abuse, family breakdown, an epidemic of single parent families, pornography, prostitution, graphic sex-education, mental illness, loneliness, drug use, euthanasia, homosexuality, same-sex unions etc. etc. are so widespread? As Our Lady predicted, every country has indeed been overcome by the errors of Communism.